5 Lesser Known Dishes of Rajasthan That You Must Try
It is the richest cuisine in India, with its variety of dishes served during one meal. Rajasthani cuisine developed owing to the state's location and lifestyle choices of people. Milk is used in good quantity in a large number of these dishes owing to the scarcity of water in the state. Other prominent ingredients that feature heavily in Rajasthani cuisine are ghee, besan (or gram flour)and chillies. Be it red or green, Rajasthan's wide array of chillies are known throughout India to give a sizzling taste in the mouth. Thanks to all these factors, we have a great number of delightful Rajasthani dishes that we just can't get enough of. This cuisine is also known for uncommonly serving sweets in the beginning, end and also throughout the course of the meal.
Here are five of the lesser known dishes of Rajasthan that are very highly recommended.
1. Khoba Roti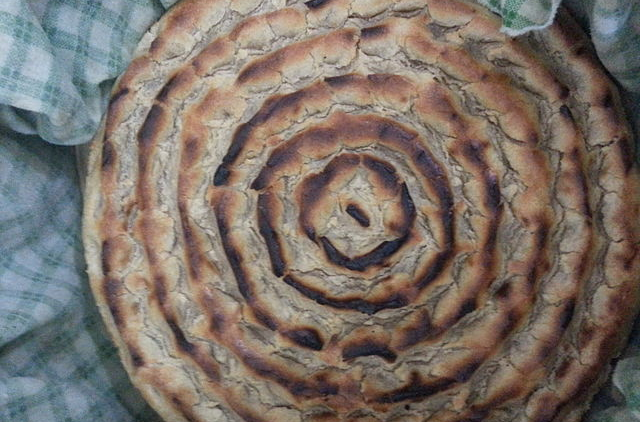 Photo by Kunalbafna, CC BY-SA 4.0
To describe in three words, it is: Thick, crusty and tasty. Khoba roti is a twist to the regular roti that we consume every day. Meaning 'valley' colloquially, khoba offers a more nutritious and healthier choice than chapati. It is made up of wheat flour, cumin seeds, salt and a bit of ghee. Its success depends highly on the strength of your hands and wrists as it requires a lot of kneading time. The dough has to be then flattened to a much thicker extent than the regular chapatis. Valley or mountain shaped indents are further made on once roasted side of the roti. It is further cooked till light brown in color and served with curry, pickle or chutney. A must tries for those looking for an alternative to chapatis or rotis, at the same providing more nutritious value.
2. Rajasthani Mogar
This appealing dish is made up of two main ingredients: split yellow gram or moong dal and raw mango. When cooked together with a dash of other spices, this dish is a treat for the summers. The combination of raw mango and yellow gram blends well in this typical Rajasthani dish. The raw mango can also be replaced with dry mango powder if unavailable. It can be served with rice or chapatis alike.
3. Ker SangriSubzi
Very popular in Rajasthan, this dish is prepared using a plethora of spices and a considerable amount of oil which helps in preserving it for a good number of days. Ker (or dried berries) and Sangri (or dried beans) combine to form a scrumptious amalgamation that proves to be a heavenly treat for your taste buds. It is usually served with bajra rotis and also makes for a very popular item during wedding feasts.
4. Malai Mirch
Chilli is a very crucial part of every Indian cuisine and even more so in Rajasthani cuisine. This unique dish found its origin in the royal kitchens of Udaipur and is prepared by cooking green chilies in fresh milk cream. The dish can stay in your refrigerator for about a week after preparation. Ideally it is served with paratha and is a definite treat for those with an affinity for really spicy and creamy food.
5. Kachri Ki Chutney
Kachriki chutney or wild cucumber chutney is one of the most underrated dishes of Rajasthan. This dish is prepared using a paste of wild cucumber cooked with some spices and curd. The sublime taste elevates your senses. It is served as a side dish for snacks or meals and is perfect for the long, hot summers.
Rajasthani cuisine is a typical blend of dishes from different parts of the state. Be it Bikaneri, Marwari, Mewari or Shekhawati, the state brings paradise to all the food lovers out there. These are some of the lesser known Rajasthani dishes that should be tried at least once.
Author's Bio:
Rohit Agarwal is an architect by profession who also adores traveling. His journeys across India and the world take him to wild and dazzling places. He loves sharing his experiences through his blog at Transindiatravels.com.